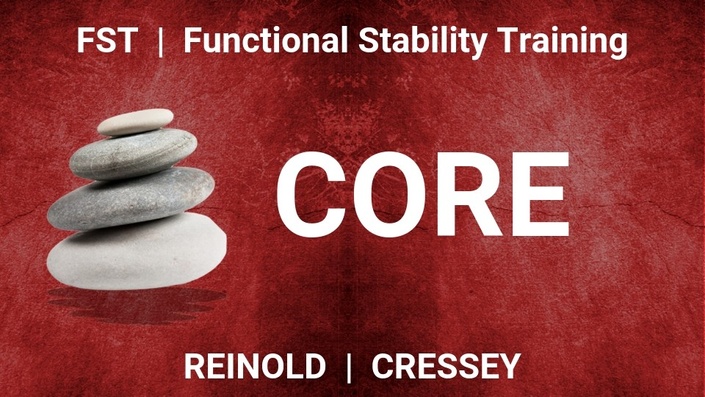 Functional Stability Training for the Core
Mike Reinold & Eric Cressey's Integrated Rehab and Training for the Core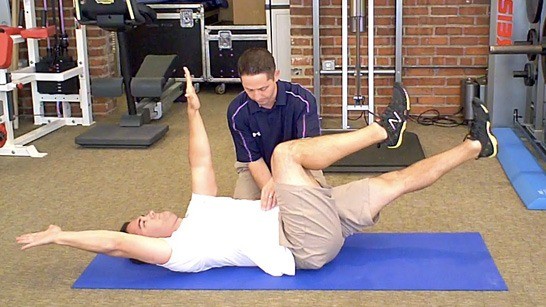 This isn't the standard exercise progression for the core with sit ups, infomercial gimmicks and sloppy medicine ball tosses. Rather, this is training the core to work the way it was intended to work – to provide stabilization of the trunk while simultaneously moving the extremities during functional activities.

Once you have trained the core to function properly on it's own, functional exercise positions and progressions can occur. Far too often we are all guilty of skipping steps or not mastering the basics before moving to advanced progressions. This will only assure the reinforcement of poor movement patterns and lead to future muscle imbalances and eventual break down.
The FST for the Core program can be applied to rehabilitation, injury prevention, and performance enhancement programs. For the rehabilitation specialist, the information will help you get away from traditional passive treatments and low back rehab exercise. For the fitness and performance specialists, the information will help you achieve new progress with your clients to maximize functional and athletic potential. For the fitness enthusiast, the information will help you gain control of your core, maximize functional movement, and reduce wear and tear due to faulty movement patterns.
There are a lot of "core training" programs out there. Functional Stability Training of the Core is not intended to swamp you with the basics like non-functional anatomy of the spine or advanced to unrealistic movements that nearly impossible to perform without compensation. Rather, this program quickly gets into technique and will show you a simplified approach to think about the core based on the true function of the core.
---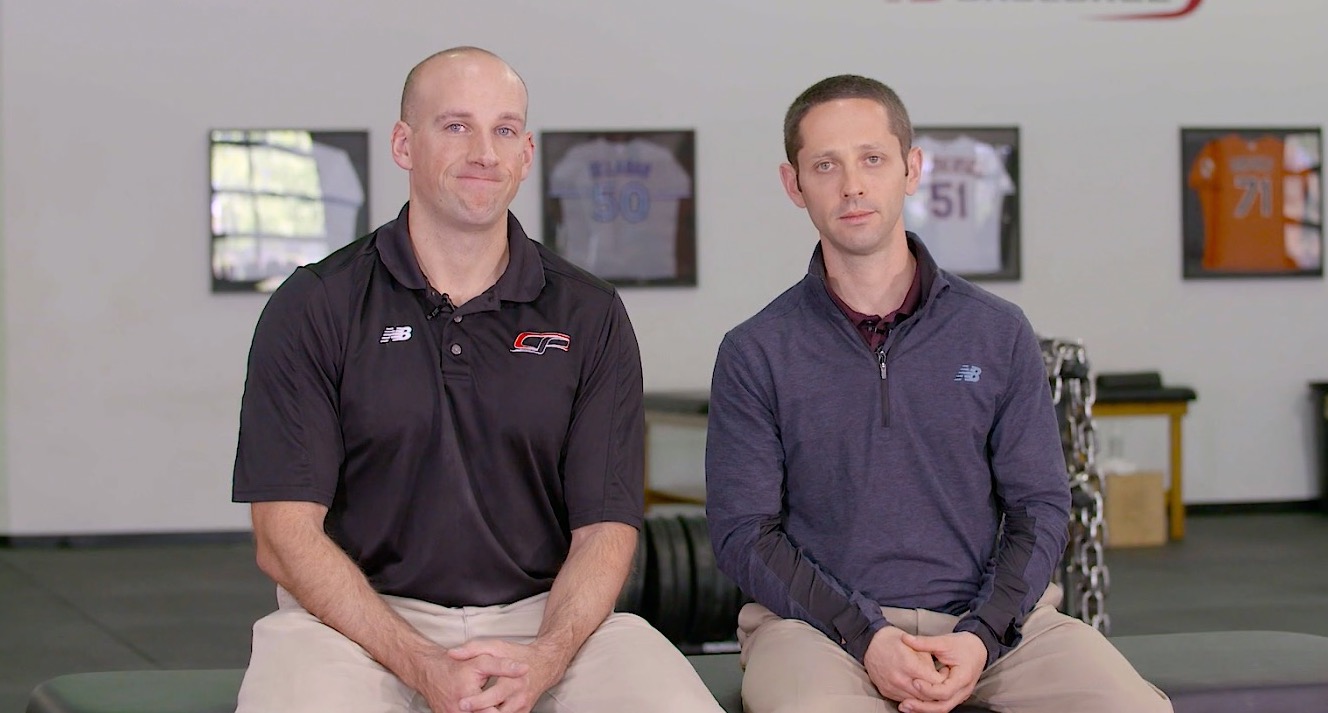 Mike Reinold & Eric Cressey
Master the basics and learn how
to control the core with FST for the Core. Simple, yet highly effective.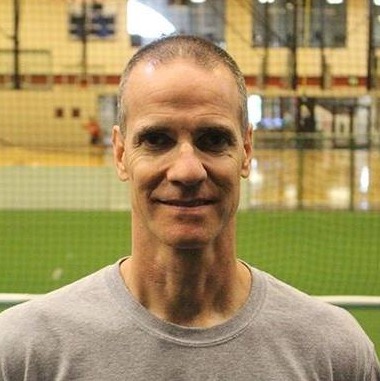 "After 30 years of coaching I do whatever I can to cut out the middle man when it comes to learning a concept, method, or training strategy- I go straight to the source whenever possible. I can't tell you how impressed I am with the precision and focus of two of the best professional in performance and therapy. Mike Reinold and Eric Cressey are game changers and Functional Stability Training is world-class"
Lee Taft, Strength Coach, LeeTaft.com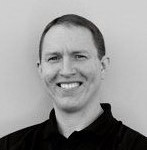 "As I get older, I'd be lying if I didn't admit that I get jaded from time-to-time. I see so many crappy fitness products on the market it makes me sick. But when guys like Eric Cressey and Mike Reinold put something together, I'm reminded how kick-ass and awesome our industry really is, and how impactful we can be if we set out minds to it. To say that it's excellent would be an understatement. Quite simply, these are two of the best in our industry, and this seminar is top notch. Whether it's assessment, coaching, program design, or just little tips and tricks, I guarantee you'll learn a ton from this seminar series."
Mike Roberston – RobertsonTrainingSystems.com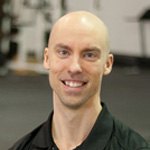 "When I think of one of the more "dynamic" duos in the industry – not to mention two guys who put out a TON of quality content – it's hard not to think of Eric Cressey and Mike Reinold. Eric and Mike leave no stone unturned in the program. This would be a SOLID addition to any fitness professionals library."
Tony Gentilcore – TonyGentilcore.com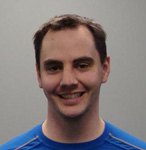 "Because of all these big glaring issues with the current state of core training, I'm really happy that Mike Reinold and Eric Cressey have released their DVD workshop, Functional Stability Training. I'm really happy with the fact that Mike and Eric address what stability is and what it isn't. In all, Functional Stability Training of the core was a great seminar where I took a lot of great information away and made some tweaks to my own ability to train clients and alter my own training to get some more bang for my buck. I'd recommend anyone pick this up, but espeically anyone who works with clients or patients and needs to learn more about how to train the core in the best way possible."
Dean Somerset – DeanSomerset.com

"As health care providers, we talk about helping people get back to function, yet many of us continue to use outdated, unproven methods to resolve impairment. If you are a practitioner who is interested in delivering true functional rehabilitation with science to back it up, you need to get this program. I have studied the work of McGill, Janda, Cook, and others. Mike and Eric have streamlined key concepts and put together a program that you can use immediately in the clinic, the gym, and training room."
Kevin M. Pozzi PT, MSPT, OCS, ATC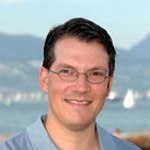 "I just got a copy of Functional Stability Training for the Core with Eric Cressey and Mike Reinold. I am always excited to see what new research is out there when it relates to the core, or what leaders in the field like Reinold and Cressey have to say about it. I know I am always open to new idea and I am always learning. In the end it benefits my clients, those that attend my courses, and myself. I have learned a number of exercises, got some great cuing tips, a bunch of progressions, was reminded of a bunch of stuff, and learned a stack of new stuff."
Rick Kaselj – ExerciseForInjuries.com
Here is What You Will Learn
The FST for the Core is available as a completely online educational program, as well as a DVD. The program is 6-hours of video of Mike and Eric during lecture and hands-on lab sessions teaching the FST for the Core program. Topics include:


Module 1 – Functional Stability Training
An overview of the integrated approach to rehabilitation and performance training.
What is functional stability training?
Paradigm shift in core training
Module 2 – Recent Advances in Core Performance

An overview of the integrated approach to rehabilitation and performance training.
Understand the concept of Functional Stability Training for the Core
How this impacts injuries, rehab, and training.
Module 3 – Maintaining a Training Effect in Spite of Common Lumbar Spine and Lower Extremity Injuries
Outlines the causes and symptoms of several common injuries encountered in the lower extremity
How to train around these issues to keep clients/athletes fit during rehabilitation.
Module 4 – Understanding and Controlling Extension

Looks into the causes of and problems with excessive lumbar extension, anterior pelvic tilt, and rib flairs.


Module 5 – Assessing Core Movement Quality
A hands-on lab session discussing where to begin with Functional Stability Training exercises for the core.


Module 6 – A Dynamic Progression of Core Performance Exercises

A hands-on lab session discussing the progression from simple core control to advanced rehab and training techniques.

Module 7 – Understanding and Controlling Extension
A hands-on lab that progresses on the previous lecture with specific technique and coaching cues for exercises aimed toward those with these common issues.

Module 8 – Advanced Stability: Training Power Outside the Sagittal Plane

A hands-on lab discussing how traditional power training programs are predominantly focused on the sagittal plane, but in most endeavors – especially rotational sports – power must be displayed in other planes of motion.
What People are Saying About FST for the Core
"Your Success is 100% Guaranteed
… Or Your Money Back"
We know that FST is going to make a significant difference for you. That's why this program comes with a rock solid 100% Money Back Guarantee. If you don't think FST has helped enhance you skills or improve you outcomes, simply let us know within 30 days of purchase and we'll refund you 100% of your purchase price, no questions asked.
Learn More About the Other FST Modules
Purchase the entire Functional Stability Training program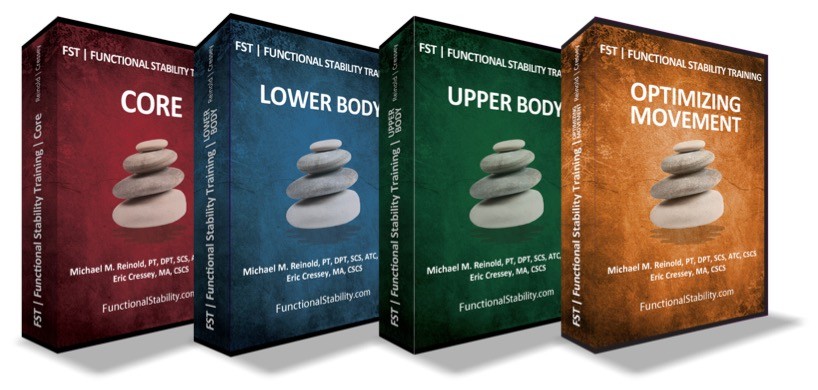 Interested in the entire FST bundle?
Each FST Program is $129, or purchase all 4 modules together and save over $40!
Click below for more information.