Do You Want to Take Your Knowledge of the Shoulder to the Next Level?
---
Let me walk you through a comprehensive online program designed to enhance your clinical examination and treatment skills of the shoulder. I'll share with you the evidence-based scientific and clinical rationale behind what you need to know to make an immediate impact on your ability to work with shoulder patients.
This is exactly how I evaluate and treat the shoulder.
I'll cover the exam, dynamic stabilization exercises, manual therapy techniques I use, and I'll detail exactly how I rehabilitate rotator cuff injuries, shoulder instability, SLAP tears, the stiff shoulder, the osteoarthritic shoulder, and more!

You'll have an advanced understanding of the shoulder joint, feel fully confident in your ability to evaluate and treat the shoulder, and easily become a shoulder expert.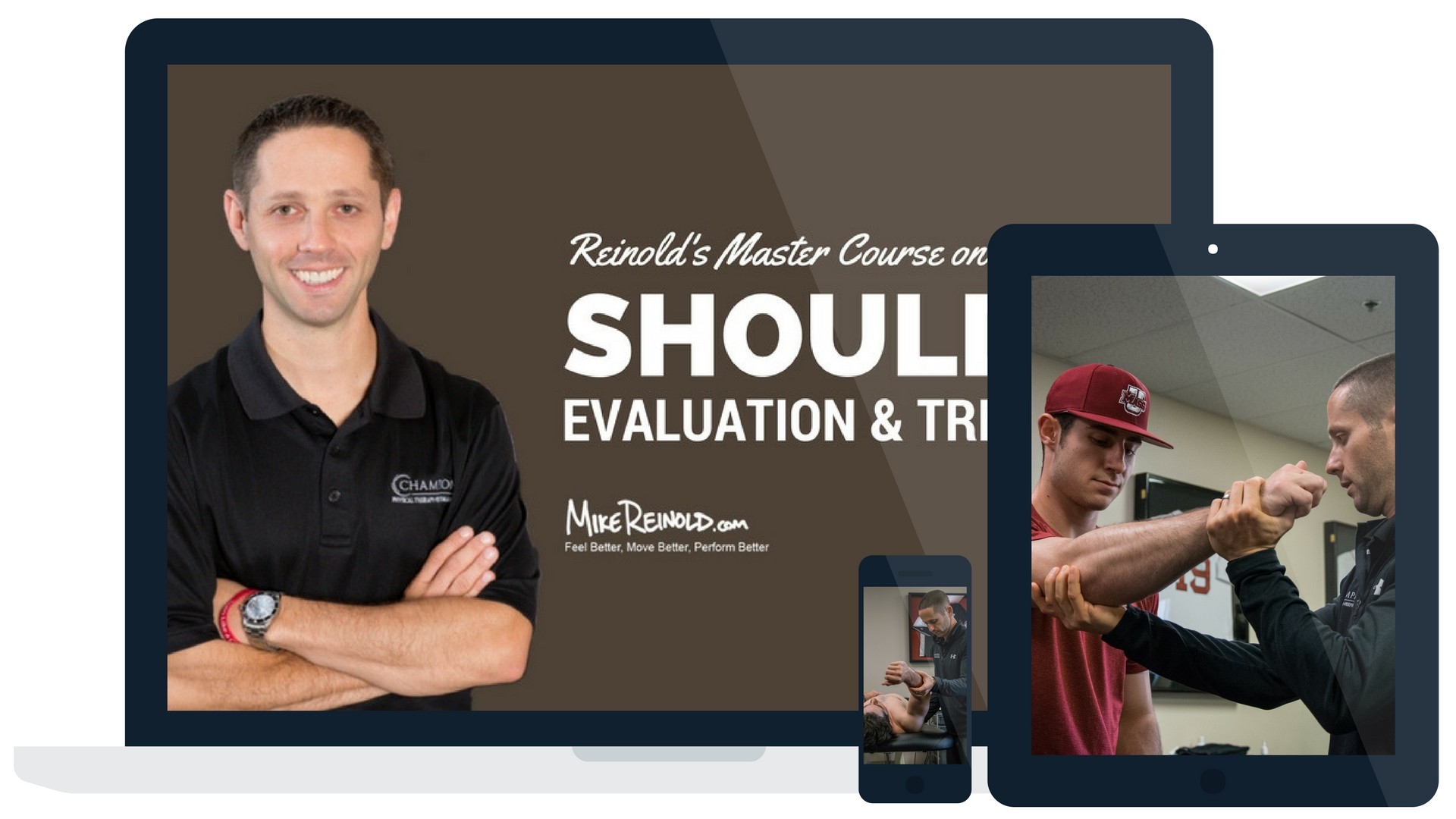 Master the Shoulder and Become an Expert
---
Over the past several years, I've been developing a cutting edge new continuing education format that takes place entirely online to allow you to learn at your own pace, but also to start implementing what you learn immediately throughout the program. No more losing an entire weekend and zoning out in the back of the room for 8 hours at a seminar!
Many home study courses consist of reading a text or watching a DVD, but I always felt they were lacking in content. My solution was to use online videos, presentations, journal article readings, and discussion boards to create a program that I know you will walk away from with a better understanding of the shoulder.
Welcome to my online continuing education mentorship program on the Recent Advances in Evidence Based Evaluation and Treatment of the Shoulder, a detailed online program. If you have attended any of my live seminars or read my website, journal articles, books, or chapters in the past, then you know that this program is packed with great content, clinical pearls, scientific evidence, and more importantly practical information that you can apply to your patients and clients immediately.
I hope you enjoy!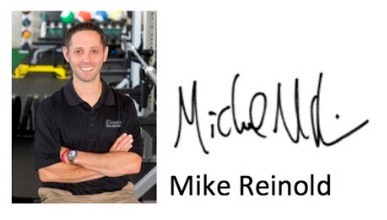 Set Yourself Apart and Master Your Understanding of the Shoulder
---
Here is what is included and just some of the many great features of joining our program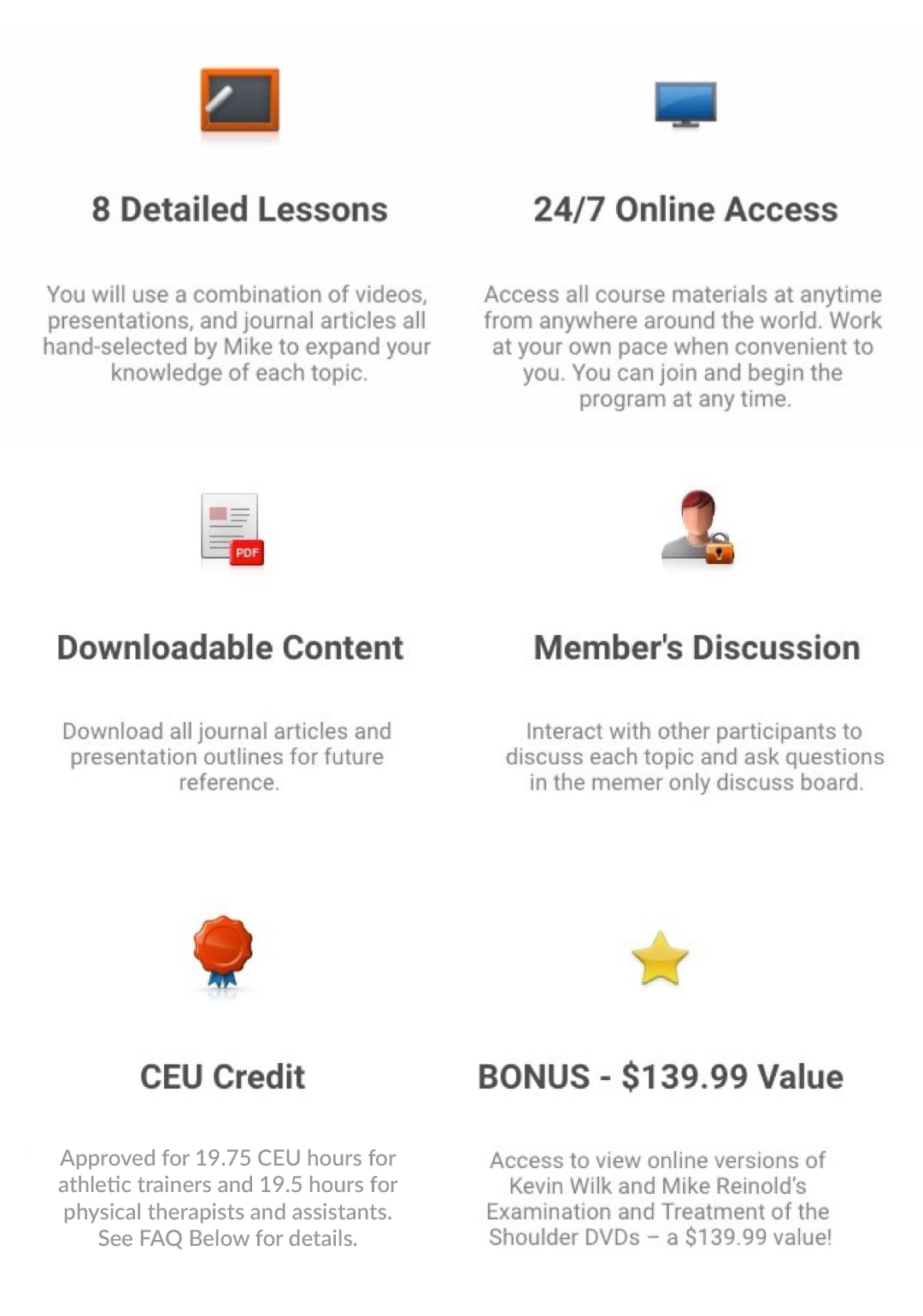 Course Lessons
---

The course contains a series of 8 lessons, each have videos, presentations, and journal article readings to cover the topic in great detail:
Lesson 1 - Evaluation of the Shoulder - An overview of my complete approach to the clinical examination of the shoulder. I'll cover the entire evaluation process from the subjective examination to a wide range of special test for different pathology.
Lesson 2 - Treatment of the Shoulder - Principles of Dynamic Stabilization - I'll demonstrate my treatment progressions for the shoulder joint complex designed to enhance neuromuscular control. We'll show progressions from early to advanced phases of rehabilitation using our 4 phase approach to restore baseline proprioception, dynamic stabilization, neuromuscular control, and functional movements.
Lesson 3 - Manual Therapy of the Shoulder - I'll demonstrate how I perform manual therapy on the shoulder to restore mobility and enhance movement.
Lesson 4 - Rotator Cuff Injuries - I'll discuss rotator cuff lesions and the postoperative treatment following a variety of rotator cuff repair procedures.
Lesson 5 - Shoulder Instability - The principles of rehabilitation following different types of shoulder instability. I'll discuss the principles that dictate the rehabilitation process and how nonoperative and postoperative rehabilitation may differ depend on the specific injury and surgery performed.
Lesson 6 - Superior Labral (SLAP) Tears - I'll discuss the different types of SLAP lesions, different mechanisms of injury, and how this impacts the surgery performed and the rehabilitation progression.
Lesson 7 - The Stiff Shoulder - In this lesson, I'll cover the different types of stiffness that we see, how to differentiate the specific areas of tightness, and how to progresss someone with postoperative stiffness or adhesive capsulitis
Lesson 8 - Shoulder Osteoarthritis - This lesson covers the keys to rehabilitation of the osteoarthritic shoulder, as well as the surgical options and postoperative guidelines for total shoulder replacement.
Critically Acclaimed Online Programs
---
Don't just take our word for it. Here are just some of the many testimonials of our acclaimed online educational programs:
"This course has significantly influenced the way I assess and treat shoulders." MC. New Zealand
"I can honestly say, this is probably one of, if not the best course I have taken." H. Gaston, Jackson, MS
"This has tremendously helped me with the assessment and treatment of the shoulder. I have received an increase in referrals from several different orthos by word of mouth!" M. Scott, El Paso, TX
"I've been a PT for 18 years and have grown confident in my treatment of all shoulder injuries. I have a strong reputation in the community as the "shoulder PT." This course was humbling. I have never been as excited to treat shoulder patients then I have been during the past 6 weeks due to this course. Mike's video presentations, assigned research reading, and knowledge on the discussion board made me think differently about how and why I treat shoulders the way I do. His knowledge has challenged me and opened my eyes to things I need to consider for evaluation and treatment and what I need to do better. He has fine tuned all my treatments. I'm a better PT now, and my patients will get better results. It's amazing that I'm most excited about shoulder treatment now than at any other point in my 18 years experience. Thanks Mike." Jim Hawley, PT, Hyannis, MA
"Mike's course is fantastic for any physical therapist regardless of age or years in practice. His course is educational, concise and stimulates critical thinking in the therapist. His course is supported by the latest in evidence-based research." Brian, Dalton, MA
"This was a great shoulder course and I would recommend it to any health care professional, athletic trainers or strength coaches that deal with shoulders, which is everyone. Easy to follow and Mike's interaction is consistent and informative." Ahmed Rashwan, Jupiter FL
"Mikes course does a brilliant job of integrating the most recent evidence based practice with current surgical techniques and rehab of the surgical and non-surgical shoulder patient. He brings together a very organized learning experience that offers the participant the flexibility to move at their own pace and access to open discussion with a diverse, very knowledgeable cross-section of therapists. This course organized the approach I will take with my shoulder patients in the future." Christine Panagos. Portland, Oregon.

"This course provided an unbelievable amount of content, focused on recent research, regarding the shoulder joint. If you complete this course, with all presentations and readings, you will have a very thorough understanding of the shoulder joint. It was great to have the ability to review the material at any time, from anywhere, via the online format." Carlyle Schomberg, Waynesville, NC.
Your Instructor
---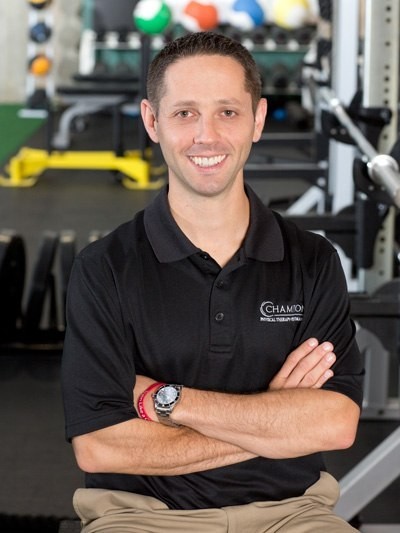 Mike Reinold, PT, DPT, SCS, ATC, CSCS, C-PS is President and Co-Founder of Champion Physical Therapy and Performance in Boston, MA.
Dr. Reinold is considered a world-renowned leader in the field of sports medicine, rehabilitation, fitness, and sports performance. As a physical therapist and certified strength and conditioning specialist, Mike uses his background in sport biomechanics, movement quality, muscles imbalances, and manual therapy to specialize in all aspects of human performance. He has worked extensively with a variety of professional athletes with emphasis on the care of throwing injuries in baseball players.
Dr. Reinold specializes in all sports and orthopedic injuries throughout the body, as well as enhancing movement quality and performance in people looking to get the most out of their bodies. Dr. Reinold is an active researcher and educator, teaching 100,000's of fitness and rehabilitation professionals each year through his publications, website, and educational products.
Frequently Asked Questions
When does the course start and finish?
The course starts right when you enroll! It is a completely self-paced online course - you decide when you start and when you finish. You'll get immediate access to the entire course, however, we suggest you go in order through the material.
How do I access the course information?
You can access the course from this website or go to ShoulderSeminar.com. You can access any part of the course from any internet connected devices. This includes all computers, tablets, and phones. You have 24/7 access to the material from anywhere in the world with internet.
How long do I have access to the course?
You'll be able to download all the journal articles and presentation outlines to keep forever. After enrolling, you'll have access to the full website for 12 weeks. But don't worry, we understand that life can get busy, if you need extra time to finish the course, we'll be happy to extend. We treat this online course similar to a live seminar and plan to offer updated versions in the future as new research and information becomes available.
Does the course offer CEUs?
Yes! This course has been approved for athletic trainers by the NATA and for physical therapists and assistants in most states. Athletic Trainers: The Advanced Continuing Education Institute (BOC AP#: P3259) is approved by the Board of Certification, Inc. to provide continuing education to athletic trainers (ATs). This program is eligible for a maximum of 19.75 Category A hours/CEUs. ATs should claim only those hours actually spent in the educational program. Physical Therapists and Assistants: This course is approved for 19.5 Contact Hours for Physical Therapists and Physical Therapist Assistants. This covers most states. Redefine Health Education (RHE) has contracted with our organization to offer this course. RHE is a registered CE approval agency of the PT Board of California, a rule-approved CE provider of the PT Board of Florida (#50-32784), a licensed CE sponsor of physical therapy continuing education by the Illinois Department of Financial & Professional Regulation (IDFPR) (#216.000360), an approved continuing competence provider by the APTA North Carolina (#21-0729-025), an approved CE provider of the PT Board of New Mexico, and an approved CE provider of the PT Board of Oklahoma (#BAP202310010). In addition to the aforementioned jurisdictions, courses approved by other state boards & APTA chapters will be accepted for licensure credit in all the jurisdictions listed on this webpage: www.redefinehealthed.com/ceuinfo. If you have a specific question about CE credit for this course in your state, please direct your inquiry including the course title in which you are interested, to
[email protected]
. To see an updated list of approved states go to: https://www.redefinehealthed.com/ceuinfo In addition, this course is approved in the state of TX. If you would like to submit for approval for other states, boards or organizations, we provide all the necessary information. Many states will accept programs approved by other states.
What if I am unhappy with the course?
We would never want you to be unhappy! If you are unsatisfied with your purchase, contact us in the first 30 days and we will give you a full refund.

Money Back Guarantee. If you aren't happy with the program, let us know within 30-days and we'll gladly offer a refund. We know you'll love it.