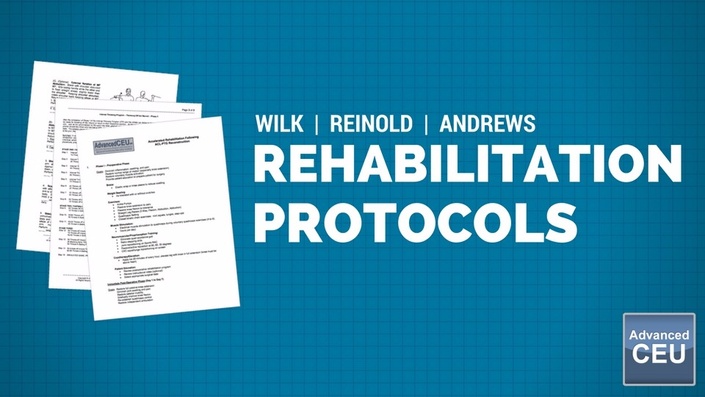 Rehabilitation Protocols by Wilk, Reinold, and Andrews
Downloadable nonoperative and postoperative rehab protocols for the shoulder, elbow, hip, knee, and ankle
Watch Promo

---
Nonoperative, Postoperative, and Return to Sport Protocols for the Shoulder, Elbow, Hip, Knee, and Ankle
Kevin Wilk, Mike Reinold, and Dr. James Andrews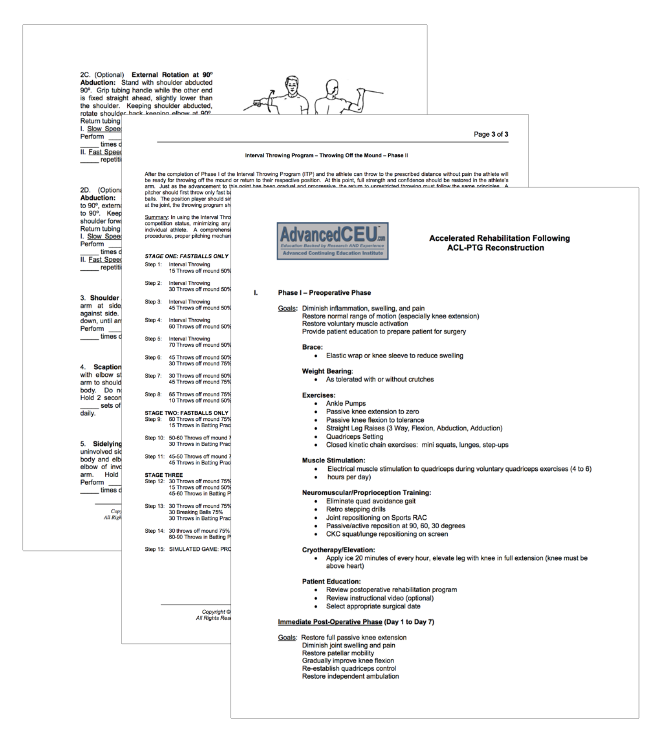 It's hard to stay on top of the current research and know how to progress your patients after a variety of different injuries and surgeries. There are so many different types of surgeries that can come into your clinic, each with their own subtle variations. Rehabilitation protocols are an important tool that you can use to:
Assure you are following the precautions and time restrictions based on the tissue healing time frames following injury or surgery
Know how fast or slow to progress a patient
Know if you are falling behind and assure people are making adequate progress
Know the criteria to transition to more advanced phases of rehabilitation
Understand how different concomitant injuries speed up or slow down the process

What exercises should I perform at week 6 following a total knee replacement?
How does rehabilitation differ after a large or small rotator cuff tear?
How much range of motion should I have at week 8 following a SLAP repair?
How does rehabilitation differ based on using a patellar tendon or hamstring autograft during ACL reconstruction?
How does adding a subacromial decompression change your rate of progression after a labral repair?
Take the guess work out of how to progress your patients following an injury or surgery. AdvancedCEU has the latest rehabilitation protocols from Kevin Wilk, Mike Reinold, and James Andrews. Our protocols are backed by evidence and experience, being used in our own rehabilitation clinics everyday.
Rehabilitation Protocols by Wilk, Reinold, and Andrews
Kevin Wilk, DPT, Mike Reinold DPT, SCS, CSCS, and James Andrews, MD have created some of the most widely used, published, cited, and respected rehabilitation protocols based on exactly how they progress their patients. These are some of the same protocols that have been published in journals such as:

We've recently updated and expanded our collection of protocols. You can now access over 177 rehabilitation protocols that cover the most commonly seen injuries and surgeries. There are many variations based on surgical technique, concomitant procedures, and patient activity level. Many different types of rehabilitation protocols are included:
Postoperative rehabilitation protocols
Preoperative rehabilitation handouts
Nonoperative rehabilitation protocols
Exercise handouts
Interval return to sport programs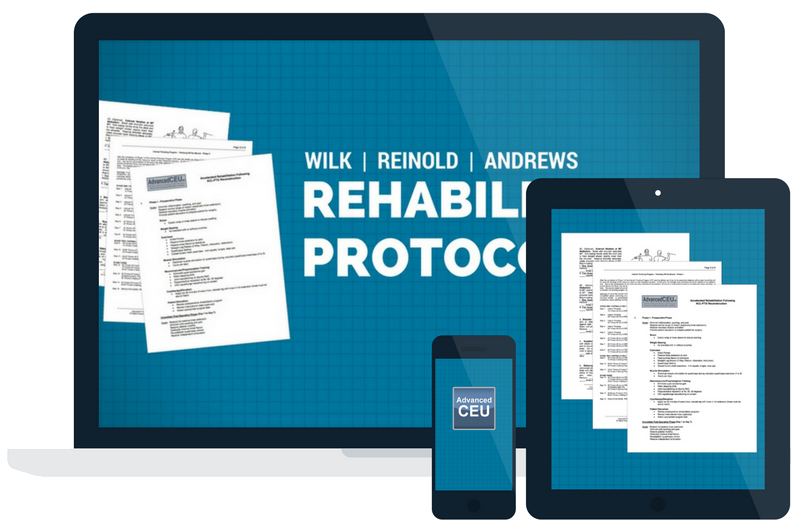 Now Completely Online

Our rehabilitation protocols are now completely online! You can access the protocols at anytime from any device connected to the internet. You'll have the option to view, download, and print on demand.
Get Instant Access to All of The Rehabilitation Protocols Now for Only

$199
Here's What Some of the Top Physical Therapists in the Country Have to Say About Our Rehabilitation Protocols
---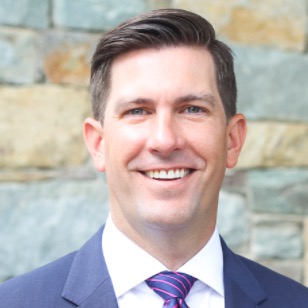 "Wilk, Reinold, and Andrews are some of the most trusted experts in physical therapy. Their protocols are top notch. Knowing that I can easily see what I should be doing week to week with my patients is great. There's such a large variety of injuries and surgeries included in these, it's amazing."

- Bart Bishop, DPT, SCS, CKTI, TPI CGFI-MP2, CSCS, Owner of Sport & Spine rehab, Washington, DC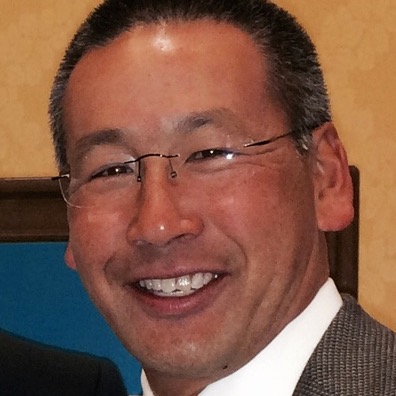 "The rehabilitation protocols from Wilk, Reinold, and Andrews are an integral part of my outpatient physical therapy clinic. Knowing that we are following the same guidelines that some of the experts in our field are using is assuring for me and my patients."
- Kyle Yamashiro, PT, CSCS, Owner of Results Physical Therapy, Sacramento, CA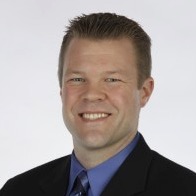 "When it comes to rehabilitation protocols, the collection from Wilk, Reinold, and Andrews are some of the best and well designed ones you could follow. These are definitely the experts you should look to if you need protocol guidance."
- Dan Lorenz, DPT, PT, LAT, CSCS, Owner of SSOR, Kansas City, KS
Frequently Asked Questions
How do I access the protocols?
The protocols are fully online. You will receive a username and password for our online platform. You can access this online platform at any time using any device connected to the internet.
How long do I have access to the protocols?
After purchasing, you have unlimited access to the protocols.
Can I Download and Print the Protocols?
Yes! All of the protocols can be viewed, downloaded, and printed out.
What protocols are included?
---
In total there are 177 newly revised and expanded protocols for nonoperative and postoperative rehabilitation of the shoulder, elbow, hip, knee, foot, and ankle, plus exercise handouts and interval return to sport programs!
---
Shoulder Protocols
Rotator Cuff Protocols
Mini-open rotator cuff repair Type I

Mini-open rotator cuff repair Type II

Mini-open rotator cuff repair Type III

Arthroscopic rotator cuff repair Type I - small tear

Arthroscopic rotator cuff repair Type II - medium tear

Arthroscopic rotator cuff repair Type III - large tear

Arthroscopic rotator cuff repair medium-large tear with PRP injection

Arthroscopic rotator cuff repair in the overhead athlete

Arthroscopic rotator cuff repair with Bankart repair

Traditional open and mini-open rotator cuff repair

Subacromial decompression

Rotator cuff debridement

Partial thickness transtendinous rotator cuff repair

Preoperative guidelines for subacromial decompression

Preoperative guidelines for rotator cuff repair

Arthroscopic subscapularis repair

Open subscapularis repair with biceps tenodesis
Shoulder Instability Protocols
Arthroscopic labral debridement

Anterior capsular shift – accelerated

Anterior capsular shift – regular

Anterior and posterior capsular shift – congenital laxity

Arthroscopic anterior Bankart labral repair

Arthroscopic anterior Bankart labral repair revision

Open anterior Bankart labral repair

Arthroscopic anterior Bankart repair with subscapularis repair

Arthroscopic anterior and posterior Bankart labral repair

Open posterior Bankart labral repair

Arthroscopic posterior Bankart labral repair

Arthroscopic 360 degree labral repair

Arthroscopic laterjet procedure

Arthroscopic laterjet procedure with posterior capsular plication

Arthroscopic capsular plication

Arthroscopic capsular plication - overhead athlete

Thermal capsular shrinkage – acquired laxity

Thermal capsular shrinkage – congenital laxity

Thermal capsular shrinkage with SLAP repair

Thermal capsular shrinkage with SAD
SLAP Protocols (Superior Labrum Protocols)
SLAP Type I and III debridement

SLAP Type II repair

SLAP Type II repair in the overhead athlete

SLAP Type II repair with SAD

SLAP Type II repair with bursectomy

SLAP Type IV with biceps tenodesis
Other Shoulder Rehabilitation Protocols
AC joint reconstruction

Total shoulder arthroplasty – normal

Total shoulder arthroplasty – tissue deficient

Hemi-cap humeral head replacement

Reverse total shoulder arthroplasty

Distal biceps repair

Proximal biceps repair

Triceps repair

Open pectoralis major repair

Biceps tenodesis
Nonoperative Shoulder Rehabilitation Programs
General PRP injection protocol

Internal impingement

Subacromial impingement

Multi-directional instability

Atraumatic instability

Traumatic anterior instability

Dynamic stability for the overhead athlete

Rehabilitation of the overhead athlete

Adhesive capsulitis / frozen shoulder
Nonoperative UCL rehabilitation

Nonoperative UCL rehabilitation – accelerated

PRP Injection for UCL

UCL reconstruction using palmaris graft

UCL reconstruction using gracilis graft

UCL reconstruction using gracilis graft - accelerated motion program

UCL reconstruction using palmaris graft– accelerated motion program

UCL reconstruction using the docking technique

UCL repair with augmentation

Pre-operative UCL reconstruction program

LCL reconstruction

Ulnar nerve transposition

Loose body removal

Elbow arthroscopy with Microfracture of OCD Lesion

Olecranon fracture ORIF

Nonoperative epicondylitis

PRP Injection for Lateral Epicondylitis

General postoperative arthroscopic program

General nonoperative rehabilitation program

Radial tunnel release

Valgus extension overload decompression

Valgus extension overload posterior decompression with microfracture

Flexor pronator release/debridement

Flexor pronator release/debridement with extensor release attachment
Hip labral repair

Hip femoroplasty with labral repair

Hip microfracture

Iliopsoas release

Proximal hamstring repair

Rehabilitation of hamstring strains
ACL Protocols
ACL reconstruction – accelerated patellar tendon autograft

ACL reconstruction – regular patellar tendon autograft

ACL reconstruction – contralateral patellar tendon

ACL reconstruction – hamstring autograft

ACL reconstruction - allograft tissue

Nonoperative ACL injury

Preoperative ACL reconstruction guidelines

ACL reconstruction with MCL repair

ACL reconstruction with meniscus repair

ACL reconstruction with microfracture and meniscus repair

ACL and PCL combined reconstruction

ACL, PCL, MCL reconstruction

ACL, MCL, LCL, posterior lateral corner reconstruction

ACL, PCL, LCL, posterior lateral corner

ACL, PCL, LCL, posterior lateral corner and lateral hamstring reconstruction

ACL, LCL, posterior lateral corner, and medial capsular reconstruction

ACL reconstruction with LCL repair

ACL with contralateral graft and primary LCL repair
PCL Protocols
Nonoperative PCL injury

PCL reconstruction – double tunnel

PCL reconstruction – single tunnel

PCL and posterior lateral corner reconstruction

PCL and ACL combined reconstruction
Meniscus Protocols
Meniscus repair – peripheral tear

Meniscus repair – complex tear

Meniscus allograft transplant

Partial meniscectomy
Articular Cartilage Protocols
Arthroscopic chondroplasty

Microfracture - small condyle lesion

Microfracture - medium to large condyle lesion

Microfracture - patellofemoral lesion

Autologous chondrocyte implantation (ACI – Genzyme) – condyle and patellofemoral lesions

Osteochondral autograft transplantation (OATS / mosaicplasty) - Condyle

Osteochondral autograft transplantation (OATS / mosaicplasty) - Patellofemoral
Osteoarthritis Rehabilitation Protocols
Nonoperative osteoarthritis

Preoperative total knee replacement

Total knee replacement – regular

Total knee replacement – active patient

Unicompartmental knee replacement

High tibial osteotomy

Hyaluronic viscosupplementation injection
Patellofemoral Protocols
Distal realignment

Lateral retinacular release

Proximal and distal realignment

Medial patellofemoral ligament repair

Medial patellofemoral ligament repair with lateral release

Quadriceps tendonitis

Patellar tendonitis

Patellar tendon repair

Patellar tendon repair for an incomplete tear

Patellar tendon repair revision

Nonoperative patellofemoral rehabilitation

Plica resection

ORIF patella fracture
Other Knee Rehabilitation Protocols
General knee arthroscopy

Quadriceps tendon repair

Nonoperative hamstring strain

Nonoperative MCL injury
Foot and Ankle Protocols
PRP injection to Achilles tendon

Achilles Tendon Repair – Accelerated

Achilles Tendon Repair – Conservative

Achilles tendonitis

Lateral ankle sprain

Plantar fasciitis
Fundamental shoulder program

Throwers ten program

Advanced throwers ten program

Little league injury prevention program

Golfers ten program

Post-operative shoulder program

Scapular training program
Interval Return to Sports Programs
Interval throwing program

10-day throwing program

14-day throwing program

21-day throwing program

Interval throwing program - catchers

Interval Little League / Softball throwing program

Interval Softball pitching program

Interval hitting program

Interval tennis program

Interval tennis program - advanced

Interval golf program

Interval football throwing program

Interval javelin throwing program

Interval running programs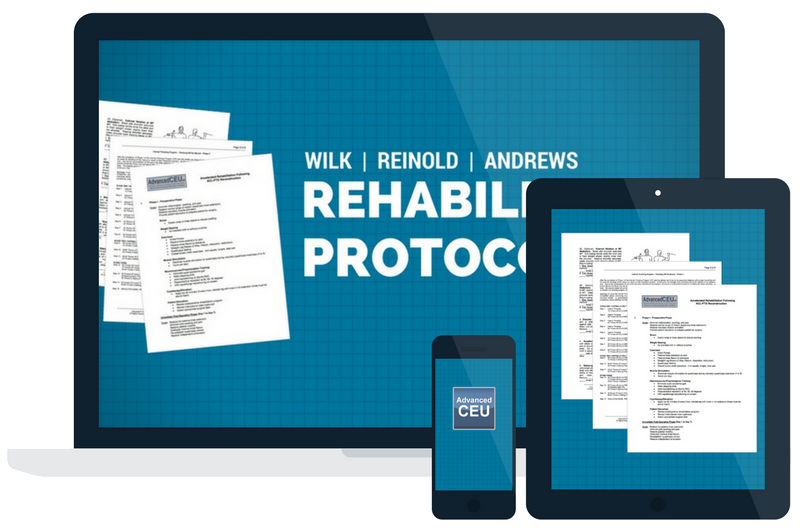 Get Instant Access to All of The Rehabilitation Protocols Now for Only
$199