Take Your Knowledge of the Knee to the Next Level and Become an Expert
---
Let us walk you through a detailed online program designed to enhance your clinical examination and treatment skills. We'll share with you the evidence-based scientific and clinical rationale behind what you need to know to make an immediate impact on your ability to work with knee patients.
This is exactly how we evaluate and treat the knee.
We'll cover ACL, meniscus, patellofemoral, articular cartilage, osteoarthritis and more.
You'll have an advanced understanding of the knee joint, feel fully confident in your ability to evaluate and treat the knee, and easily become a knee expert.



---
Over the past several years, we've been developing a cutting edge new continuing education format that takes place entirely online over a longer period of time to allow you to learn at your own pace but also to start implementing what you learn immediately throughout the program. No more losing an entire weekend and zoning out in the back of the room for 8 hours! Many home study courses consist of reading a text or watching a DVD, but we always felt they were lacking in content and had no interactivity.
Our solution was to use online videos, presentations, journal article readings, and discussion boards to create a program that I know you will walk away from with a better understanding of the knee.
Welcome to our online continuing education mentorship program on the Recent Advances in Evidence Based Evaluation and Treatment of the Knee, an online program with 7 lessons of content. If you have attended any of our live seminars or read our websites, journal articles, books, or chapters in the past, then you know that this program is packed with great content, clinical pearls, scientific evidence, and more importantly practical information that you can apply to your patients and clients immediately.
The course is highly interactive, both with us and with all of the other participants – you can be as involved as much as you would like, but the more we interact the better the experience. The best part is that you can do this when ever and where ever you want, it doesn't matter what time zone or even country you are in, you participate when it is convenient to you. This is the future of continuing education.
We hope you enjoy!

Set Yourself Apart and Master Your Understanding of the Knee
---
Here's what is included and just some of the many great features of joining our program: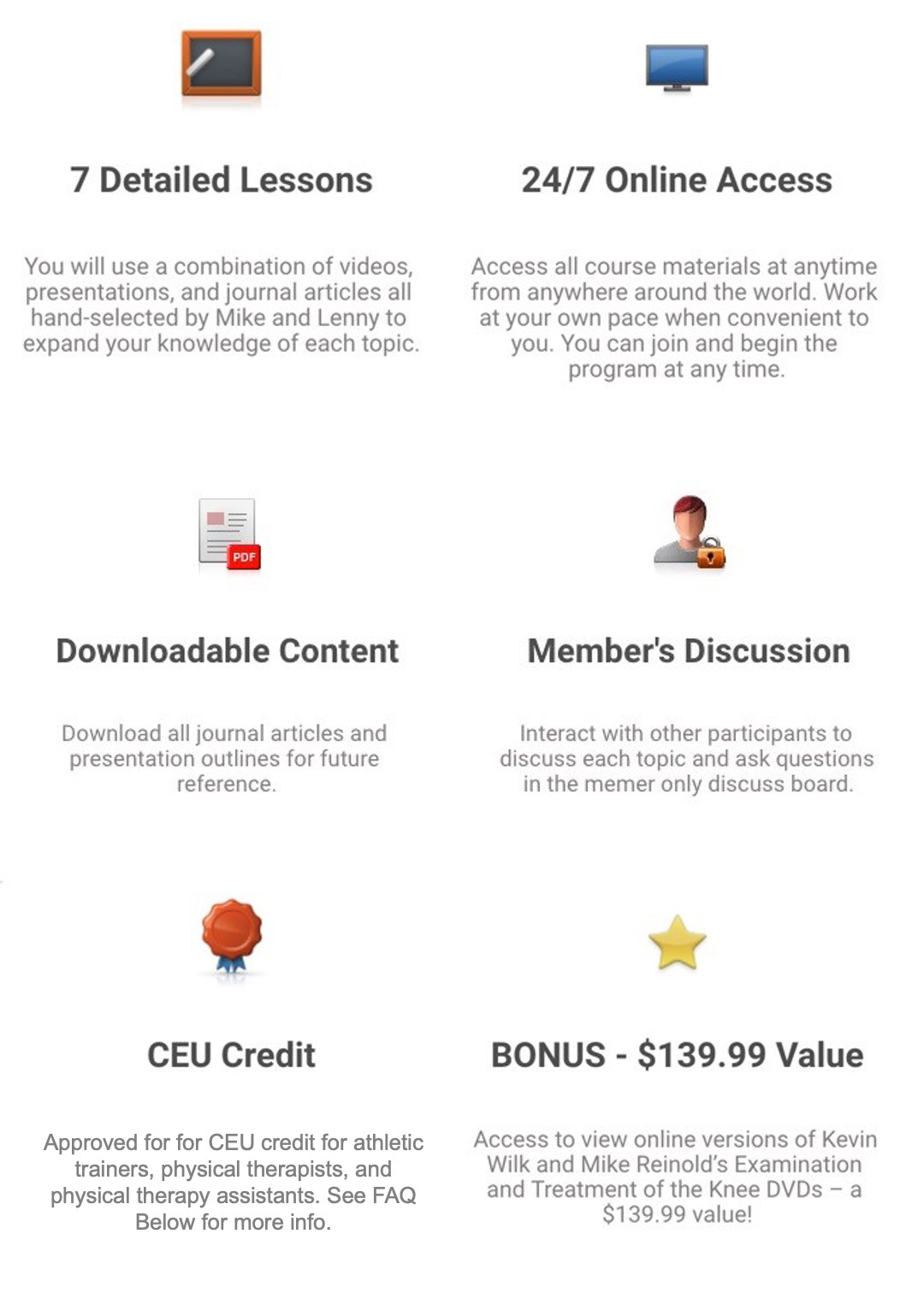 Course Lessons
---

The course contains seven modules that include videos, presentations, journal article readings, and a discussion forum. Once you finish a module, you can proceed to the next module in the course:
---
Lesson 1 - Evaluation of the Knee - An overview of our complete approach to the clinical examination of the knee. We'll cover the entire evaluation process from the subjective examination to a wide range of special test for ligamentous, meniscal, and patellofemoral pathology.
Lesson 2 - Treatment of the Knee - We'll demonstrate our treatment progressions for the knee joint complex designed to enhance neuromuscular control. We'll show progressions from early to advanced phases of rehabilitation using our 4 phase approach to restore baseline proprioception, dynamic stabilization, neuromuscular control, and functional movements
Lesson 3 - Anterior Cruciate Ligament - An overview of the entire rehabilitation process following ACL reconstruction, including variations based on graft selection and specific patient criteria.
Lesson 4 - Patellofemoral - How to develop treatment programs for patellofemoral pain based on our patellofemoral classification system. Using this approach you'll be able to easily distinguish between many different reasons behind patellofemoral pain and treat appropriately.
Lesson 5 - Meniscus - We'll discuss meniscal pathology and the rehabilitation process of meniscal injuries, both nonoperatively as well as postoperative meniscectomy and meniscal repair procedures.
Lesson 6 - Articular Cartilage - We'll discuss meniscal pathology and the rehabilitation process of meniscal injuries, both nonoperatively as well as postoperative meniscectomy and meniscal repair procedures.
Lesson 7 - Knee Osteoarthritis - The principles behind rehabilitation of the knee with osteoarthritis, including nonoperative management and rehabilitation following tibial osteotomy and total knee replacement surgery.
Critically Acclaimed Online Programs
---
Don't just take our word for it. Here are just some of the many testimonials of our acclaimed online educational programs:
"Phenomenal course on the knee. I would recommend this course to practitioners new and old as it provides a great perspective on evaluation, assessment and treatment of the various conditions we often see in the orthopedic section." - Jeff Mueller, PT, DPT -- Clovis, CA
"By far the most comprehensive knee seminar I have taken. Mike and Lenny truly are leaders in the industry. This is an amazing opportunity for clinicians to enhance their approach to knee dysfunction whether it be conservative or surgical. Thanks!" - Keaton Worland, PT, DPT, CSCS, ITPT - Waterloo, IL
"This course is amazing. The presentation is great provided with the content and knowledge Mike and Lenny had to offer. This program has helped me to learn more about my patients and to provide them with better treatment." - Tony N., PTA - Jacksonville, FL
"Outstanding learning format! Mike and Lenny bring their extensive knowledge base, experience and enthusiasm to this course to enable clinicians at all levels to gain a more in depth understanding of the evaluation and treatment of the knee." - Barb Kaiser, PT, CLT
Frequently Asked Questions
When does the course start and finish?
The course starts right when you enroll! It is a completely self-paced online course - you decide when you start and when you finish. You'll get immediate access to the entire course, however, we suggest you go in order through the material.
How do I access the course information?
You can access the course from this website or go to OnlineKneeSeminar.com. You can access any part of the course from any internet connected devices. This includes all computers, tablets, and phones. You have 24/7 access to the material from anywhere in the world with internet.
How long do I have access to the course?
You'll be able to download all the journal articles and presentation outlines to keep forever. After enrolling, you'll have access to the full website for 12 weeks. But don't worry, we understand that life can get busy, if you need extra time to finish the course, we'll be happy to extend. We treat this online course similar to a live seminar and plan to offer updated versions in the future as new research and information becomes available.
Does the course offer CEUs?
Yes! This course has been approved for athletic trainers by the NATA and for physical therapists and assistants in most states.  Athletic Trainers: The Advanced Continuing Education Institute (BOC AP#: P3259) is approved by the Board of Certification, Inc. to provide continuing education to athletic trainers (ATs). This program is eligible for a maximum of 22.5 Category A hours/CEUs. ATs should claim only those hours actually spent in the educational program. Physical Therapists and Assistants: This course is approved for 22 Contact Hours for Physical Therapists and Physical Therapist Assistants.  This covers most states. Redefine Health Education (RHE) has contracted with our organization to offer this course. RHE is a registered CE approval agency of the PT Board of California, a rule-approved CE provider of the PT Board of Florida (#50-32784), a licensed CE sponsor of physical therapy continuing education by the Illinois Department of Financial & Professional Regulation (IDFPR) (#216.000360), an approved continuing competence provider by the APTA North Carolina (#21-0729-025), an approved CE provider of the PT Board of New Mexico, and an approved CE provider of the PT Board of Oklahoma (#BAP202310010). In addition to the aforementioned jurisdictions, courses approved by other state boards & APTA chapters will be accepted for licensure credit in all the jurisdictions listed on this webpage: www.redefinehealthed.com/ceuinfo. If you have a specific question about CE credit for this course in your state, please direct your inquiry including the course title in which you are interested, to
[email protected]
. To see an updated list of approved states go to: https://www.redefinehealthed.com/ceuinfo In addition, this course is approved in the state of TX and OH. If you would like to submit for approval for other states, boards or organizations, we provide all the necessary information.  Many states will accept programs approved by other states.
What if I am unhappy with the course?
We would never want you to be unhappy! If you are unsatisfied with your purchase, contact us in the first 30 days and we will give you a full refund.

Money Back Guarantee. If you aren't happy with the program, let us know within 30-days and we'll gladly offer a refund. We know you'll love it.
Detailed Course Information
---
Please click here for full course CEU details
Learning Objectives:
1. At the successful completion of this course, the participant will be able to describe the pathomechanics of various knee injuries and given the values for injury mechanism be able to appropriately list at least 3 correct special tests to differentiate pathology;
2. At the successful completion of this course, the participant will be able to correctly list at least 3 specific clinical examination tests &maneuvers used to appropriately differentially diagnose between ACL, patellofemoral, meniscus injuries;
3. At the successful completion of this course, the participant will be able to correctly describe and design an effective and appropriate rehabilitation program based on current clinical and scientific research for nonoperative and postoperative ACL injuries, patellofemoral injuries, meniscal injuries, articular cartilage injuries, and osteoarthritis injuries.
Target Audience:
Various Levels. This program is applicable to physical therapists, occupational therapists, assistants, athletic trainers, strength and conditioning specialists, and other orthopedic, sports medicine, rehabilitation, and fitness specialists.
The Advanced Continuing Education Institute, LLC, is approved by the Board of Certification, Inc. to offer continuing education to Certified Athletic Trainers.