Let Me Help You Keep Growing
---
One of the most common things I hear, from both new grads and experienced people alike, is how hard it is to find a mentor.
Someone that has experience, integrates current research, and has similar interests as you. Someone that is constantly learning, growing, and willing to share all this.
Maybe your not completely confident that what you're doing is the most effective, or maybe you simply just feel like you're getting stale and out of date. Or maybe you just want to get some guidance to assure you're on the right path.
I want to help and become that person for you.
That's why I created my Inner Circle Online Mentorship almost 10 years ago. Since then, I've had thousands of members join me from all around the world.
I want to share cutting edge information and new research that is going to help you stay current and take your knowledge to the next level. Actionable information that you can start using right away.
Plus, you get access to me to ask questions and get help along the way. And not just from me, but the whole Inner Circle community.
So, I hope you join my Inner Circle, I looking forward to helping you grow!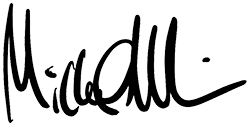 - Mike Reinold
As featured and published in:

What Can My Inner Circle Do For You?
---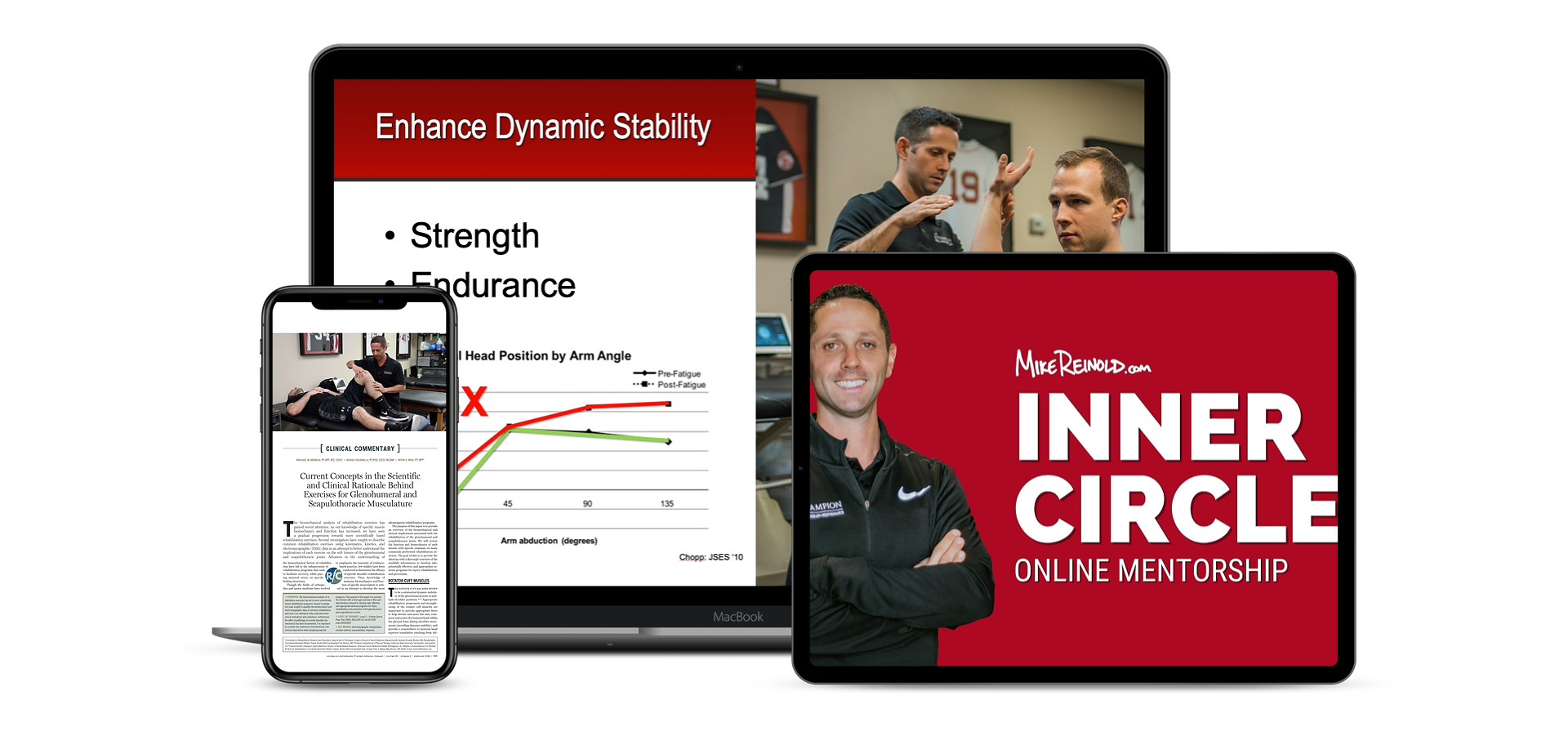 LEARN CURRENT CONCEPTS
Learn from detailed presentations on subjects that matter to you.
---
STAY UP TO DATE
Always know what's current and stay on top of new research.
---
TAKE YOUR KNOWLEDGE AND SKILLS TO THE NEXT LEVEL
Actionable information that you can start applying right away.
---
HELP AND GUIDANCE WHEN YOU NEED IT
Ask questions and get feedback from me and the Inner Circle community.
What's Inside the Program?
I'm always adding new content exclusive to Inner Circle members, see what you'll find inside the program below
---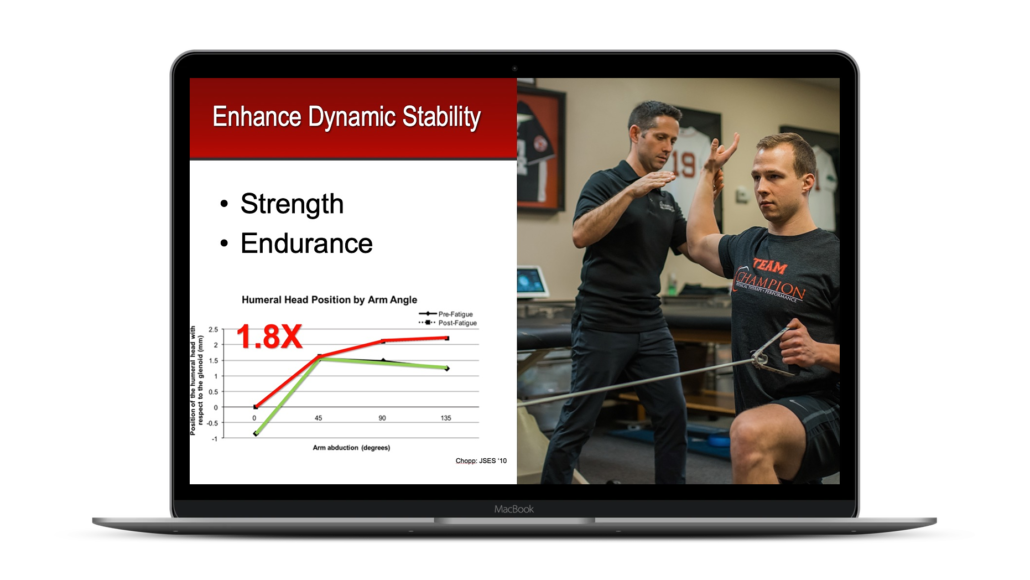 Current Concepts Courses
Learn from comprehensive presentations covering the recent advances in our understanding of topics. Here's just a few examples from the dozens of available presentations covering everything from evaluation, treatment, training, and career advice:
Traumatic vs Atraumatic Instability of the Shoulder

5 Keys to Returning to Sport After Knee Surgery

Periodization for Strength Training and Rehabilitation

Diagnosis and Treatment of Hamstring Strains

The Science of Plyometric Training
---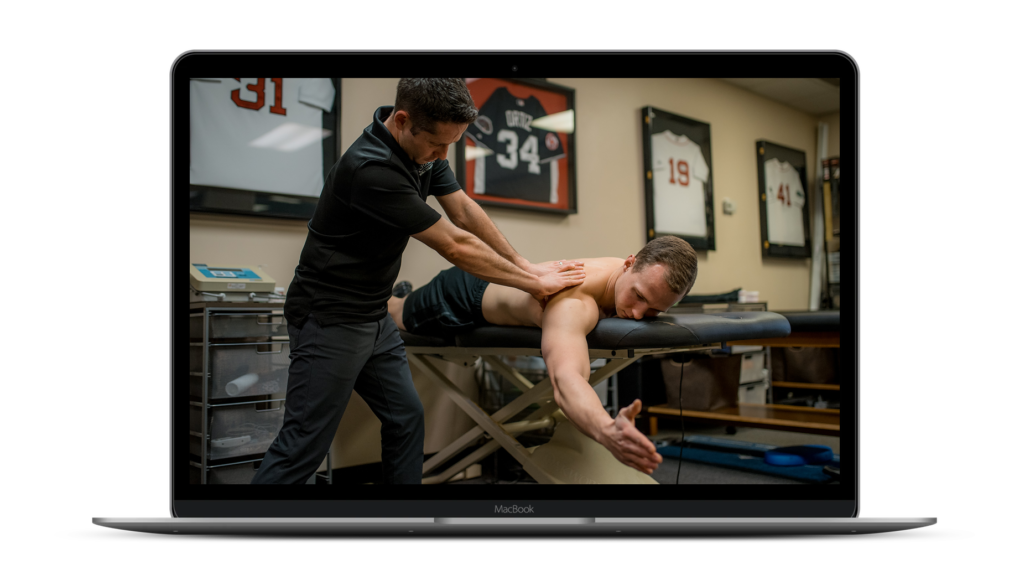 Execution Plans
Review actionable plans to help you achieve a specific goal. Essentially, how to solve a specific problem. Think of these as step-by-step plans on accomplishing something specific, including:
Assessing Thoracic Mobility

How to Modify the Deadlift so Anyone Can Perform

Treating Scapular Winging

Strategies for Anterior Pelvic Tilt

Restoring Shoulder Internal Rotation
---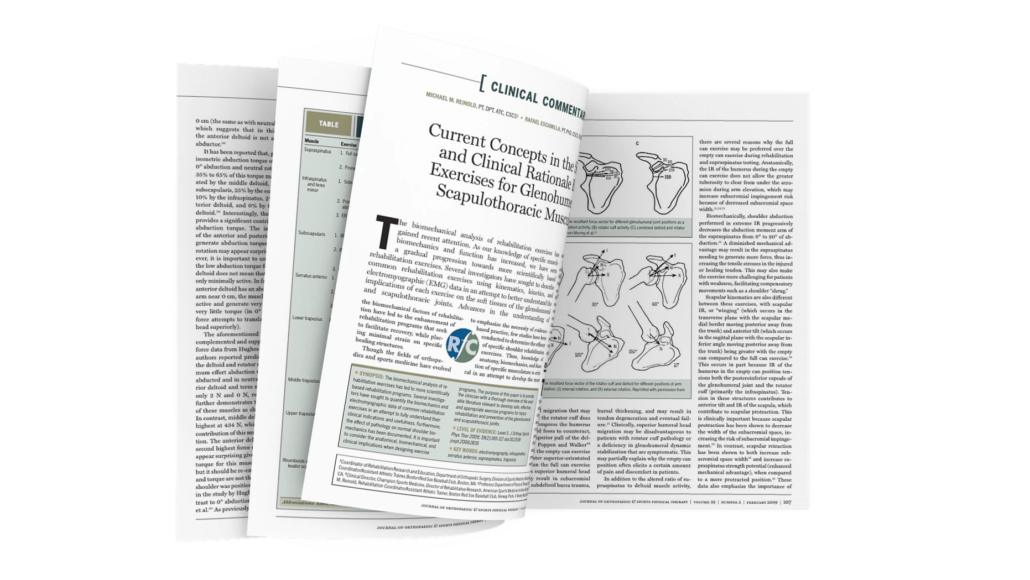 Journal Club and Research Reviews
Stay up to date with the latest research. I'll scan all the best journals to find new articles, then discuss them and the clinical implications. I'll share my thoughts on the study, as well as what we may want to do different based on the findings.
---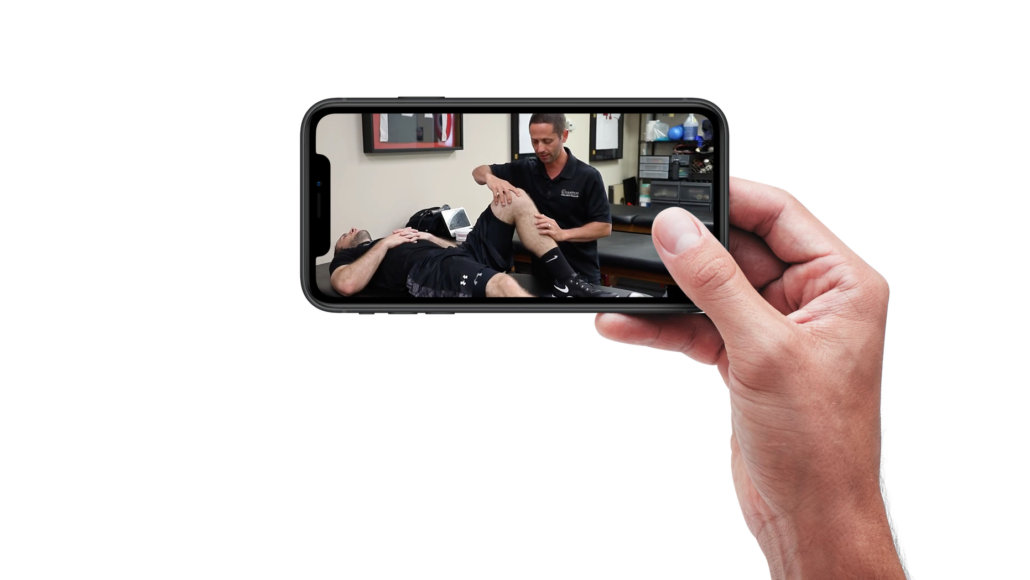 Video Vault
A collection of some of my best videos of special tests, manual techniques, and exercises organized in an easy to access video library. Log on to your computer, tablet, or phone and quickly review some techniques on the go.
---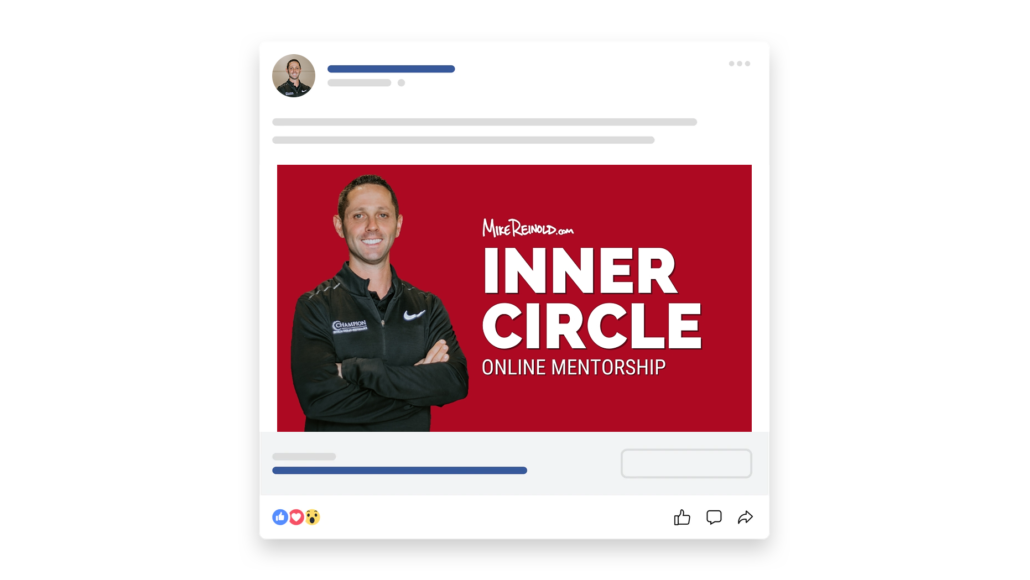 Member Forum
Have a question? Need some guidance on a specific issue? Head over to the member forum and ask a question. Not only will I jump in on the discussion and try to help, but also the entire Inner Circle community. Plus, you can interact and help share your experience with others too.

---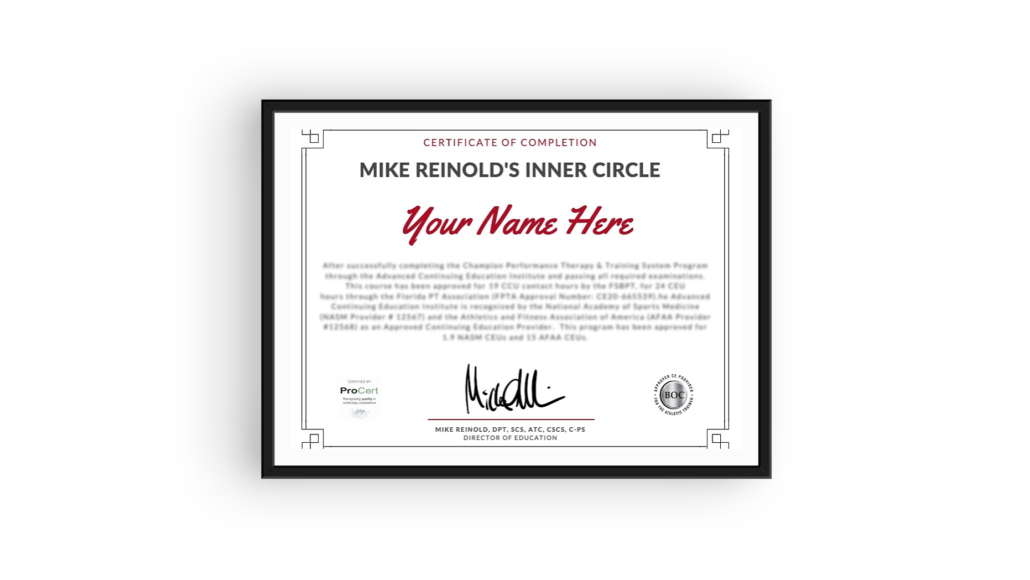 CEU Credit
Need CEUs for your physical therapy or athletic training license? My Inner Circle offers up to 12.5 CEU hours by completing coursework.
Redefine Health Education (RHE) has contracted with our organization to offer this course. RHE is a registered CE approval agency of the PT Board of California, a rule-approved CE provider of the PT Board of Florida (#50-32784), a licensed CE sponsor of physical therapy continuing education by the Illinois Department of Financial & Professional Regulation (IDFPR) (#216.000360), an approved continuing competence provider by the APTA North Carolina (#21-0729-025), an approved CE provider of the PT Board of New Mexico, and an approved CE provider of the PT Board of Oklahoma (#BAP202310010). In addition to the aforementioned jurisdictions, courses approved by other state boards & APTA chapters will be accepted for licensure credit in all the jurisdictions listed on this webpage: www.redefinehealthed.com/ceuinfo. If you have a specific question about CE credit for this course in your state, please direct your inquiry including the course title in which you are interested, to [email protected].

Don't Take My Word For It
See What Some of the THOUSANDS of Other Rehab and Fitness Professionals in My Inner Circle Are Saying
---
"The inner circle feels like a one on one mentorship session with Mike himself!" - Jesse Awenus, MSC.PT, Toronto, Canada
"The best value in continuing education out there!" - Maria Mountain, MSc, London, ON
"Mike is the missing link keeping me informed and cutting edge." - Troy McColman, DC, Alberta, Canada
"Becoming an Inner Circle Member has enabled me to continue to grow as a clinician, gaining insight on the latest researched and clinical effective treatments. I highly recommend it." - J. Scott Colombo, PT, DPT, CSCS, PES, Pittsburg, PA
"I love being in the Inner Circle, getting cutting edge information, and bringing the tools and information to help my clients recover faster!" - Cindy Doody, LMT, Cohasset, MA
"I have been a member of the Inner Circle the moment it started and it has helped me not only get updated in my field as a Physical Therapist but improve myself as a clinician using all the updated knowledge that Mike provides. I love it! Thank you!" - Mark Jamantoc, PT, Seattle, WA
"As an older Therapist with 36 years of experience, I am always learning updated info from the Inner circle information & Webinars. An easy way to spend valuable money & and precious time. Thanks for all you do Mike. Your passion & joy in your work is greatly appreciated." - Brenda-Jane Garlick, Minneapolis, MN
"For someone who is busy with work, family, and life, the Inner Circle allows me to be able to stay up-to-date on current information that is in the rehab and strength and conditioning fields. All of the information presented is in-depth, interesting, and thought provoking. I would definitely recommend this program to anyone." - Andrew Millett MSPT, CSCS, Hudson, MA
"The information that Mike teaches is solid and valuable. He teaches in ways that can be directly applied to working with clients. I find the information incredibly useful and it helps me build on what I already know and use taking me one step further in my knowledge of how the body works and moves." - Lori Havas, ACSM, HFS, Eugene, OR
Ready to Join My Inner Circle?
---
My goal is to provide you with a ton of value for very little money. I want it to be a no-brainer for you. I don't want anyone to not be able to afford joining. I'm really proud of this.
Choose between a monthly subscription, or get two FREE months when you choose the yearly subscription. Either way, you can easily cancel at anytime. But you won't want to :)
This is a recurring membership. Your credit card will be charged every month or year while you are a member, depending on which membership option you choose. You may cancel at any time from your online profile.