Do you want to build programs to optimize mobility, develop strength and power, and enhance speed and agility?
---
The Champion Performance Therapy and Training Seminar is an online educational product designed to overview the Champion system of integrated rehabilitation, fitness, and sports performance training for physical therapists, personal trainers, strength coaches and other rehabilitation and fitness specialists.
The program includes live lectures and hands-on sessions from the entire team at Champion. At Champion, we believe in developing complete performance, no matter what "performance" means to you.
All of our programs are designed to focus on all aspects of human and athletic performance development, combining mobility, strength, power, endurance, speed, and agility into one complete program.
Personal trainers, strength coaches, and other fitness specialists will learn the concepts behind the Champion program design system, including how we select, regress, progress, and periodize exercises based on movement patterns to enhance performance. You'll learn how we emphasize developing complete athleticism by enhancing mobility, strength, power, speed, and agility.
Physical therapists and rehabilitation specialists will learn our concepts of movement-based rehabilitation, included strategies to assess movement dysfunctions and prescribe appropriate manual therapy and corrective exercises. We emphasize a hands-on approach that includes a thorough biomechanical assessment of how the body moves and functions to determine what specific muscle imbalances and movement impairments may be leading to dysfunction or limiting performance. We then offer an individualized approach that produces amazing results.
Fitness specialists will benefit from learning how we integrate rehabilitation concepts into our programs to develop appropriate self-myofascial release, mobility, and corrective exercise programs. Likewise, rehabilitation specialists will benefit from learning how we integrate performance training concepts to understand how to integrate appropriate strength and conditioning concepts into advanced rehabilitation programs.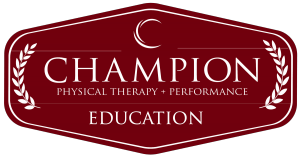 #TeamChampion
---

24/7 Access on Any Device
---

Maybe one of the best features of the Champion Bridging the Gap From Rehab to Performance Seminar is the ability to watch the content whenever and wherever you want - you can access the materials 24/7 on any internet connected device - forever!
CEU Information: This course has not been pre-approved for CEU credit. However, we provide everything you need in the course manual to submit on your own for credit! The course has over 6 hours of CEU content.