Learn How to Maximize Your Rehabilitation and Strength and Conditioning Programs Just Like We Do at Champion
---
Traditional rehabilitation programs following injury or surgery have focused on restoring basic function to the involved joint or tissue. As the physical demands of our patients continue to increase, the rehabilitation process must consider incorporating a more comprehensive approach to restoring not only function, but optimal performance. By integrating strength and conditioning principles into the rehabilitation process, rehabilitation specialists can better prepare the patient for returning to full activity. As the rehabilitation phase advances, a comprehensive system to progress from traditional rehabilitation to functional strength and conditioning programs must be followed. Too often the transition between rehabilitation and strength and conditioning is not seamless or designed to continue to optimize performance, while ensuring progress.
There is a better way to integrate rehab and performance throughout the process.
The Champion Bridging the Gap From Rehab to Performance Seminar will show you how.
Personal trainers and strength coaches will benefit from learning how we integrate rehabilitation concepts into our programs to properly assess, customize programs, and advanced people into strength and conditioning programs. Likewise, rehabilitation specialists will benefit from learning how we integrate appropriate strength and conditioning concepts through the acute and advanced phases of rehabilitation.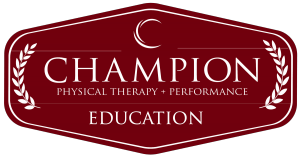 #TeamChampion
---

24/7 Access on Any Device
---

Maybe one of the best features of the Champion Bridging the Gap From Rehab to Performance Seminar is the ability to watch the content whenever and wherever you want - you can access the materials 24/7 on any internet connected device - forever!
CEU Information: This course has not been pre-approved for CEU credit. However, we provide everything you need in the course manual to submit on your own for credit! The course has over 6 hours of CEU content.